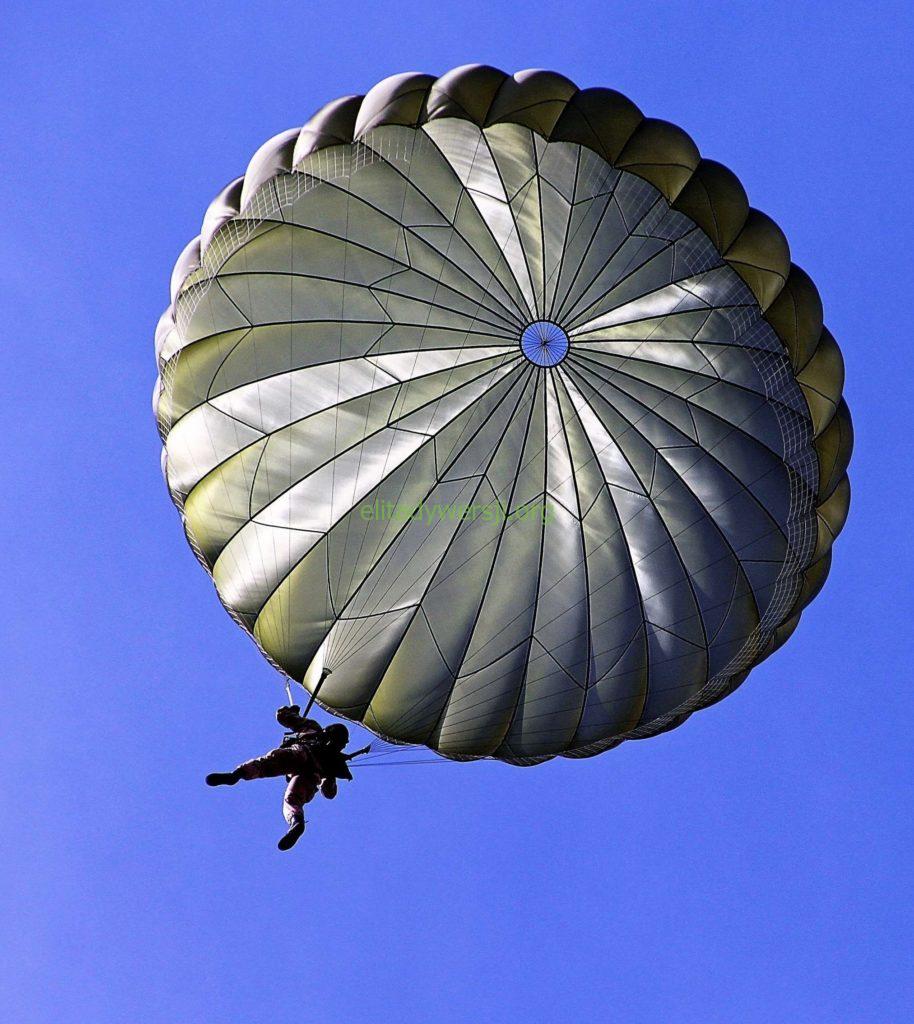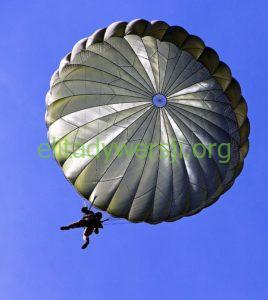 The first alleged parachutist is said to be a mythical Chinese emperor Shun (2258 – 2208 p.n.e), who was supposed to save himself by jumping from a tall burning barn, holding two huge straw hats to cushion the fall.
However, the first project of a working parachute was constructed by Leonardo da Vinci.A French physicist reputedly  Louis-Sébastien Lenormand 26 grudnia 1783 jumped from Montpellier observatory with the help of a 14-foot parachute with a wooden frame. We can be certain that Andre Jacques Garnerin at the show on October 22 1797. He jumped from about 700 m on a seven-meter parachute of his own construction in the Paris Monceau Park.
The goal of the parachute is to decrease the speed of falling, ideally making it safe for the parachutist. This is achieved through the clever construction of the parachute, which works against air resistance to achieve a slow fall. It was planned to use parachutes in various Air Forces during the First World War. Commander of the USA's Air Forces in France, gen. William Mitchel planned to drop the entire division (about 20,000 soldiers) on the German rear in 1919, with the use of as many as 2,000 aircraft. However, the war ended earlier.
W 1935 during the soviet maneuvers near Kiev, with the participation of foreign observers, a landing of 1.2 thousand. soldiers from adapted Soviet TB-3 bombers.
Were first in Europe to create airborne units Germans. By 1939, they had formed the 7th Aviation Division (2 parachute regiments) and the 22nd Infantry Division (air infantry). During World War II, the 7th Division took part in the fighting in Poland, but no landing was dropped. German paratroopers played an important role by taking over bridges and airports in Denmark, Norway and the Netherlands in 1940. A year later they participated in a major airborne operation called "Mercury" to capture Crete. In 1943, they participated in the recovery of Mussolini.
History of Polish parachuting
The Soviet display of parachuting in Kijów accelerated the organisation of airborne units in France, Italy and Poland. There were two main concepts on how to use the specialized troops, namely: diversion tactics and massive in scale, sea-land-air operations.
It is worth noting that, 25 sierpnia 1893 Varsovian Janina Mey was the first polish woman that jumped with a parachute. In November, 1914 Pole Włodzimierz Mazurkiewicz  became a flight instructor for the Chinese army.
W 1929 a workshop was created in Legionowo, producing British Irvin parachutes. In the same year, Colonel Marian Romeyko published an article titled ''Wyprawy specjalne'' (eng. Special journeys) in a monthly periodical ''Przegląd Lotniczy'' (eng. Aviation Review''. He wrote:
The transportation of a platoon with machine guns using two, maybe three airplanes does not seem impossible today. In the foreseeable future (and today in the West) – it can become a normal occurrence. On the other hand, dropping off individual spies will probably be achieved with the help of parachutes (which still need to be improved upon). A certain number of disciplined, well-armed soldiers with machine guns, can become a force to be reckoned with, especially for the enemy backlines and communication facilities.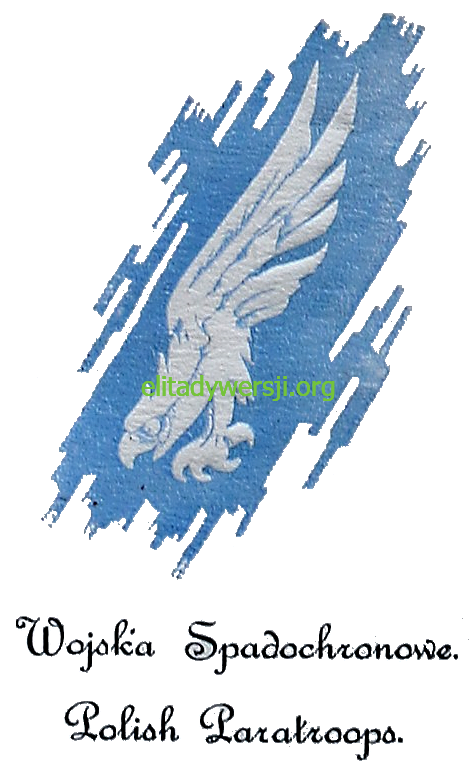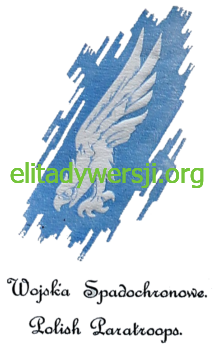 Polish parachuting has started to unfold its wings in 1936. The paramilitary organization League of Air and Gas Defense, popularizing them since 1923, was then intensively promoting the slogan "Youth for parachutes!", Initiating the practice of parachuting. In Legionowo near Warsaw, parachute instructor courses were organized. A parachute tower was erected at the Infantry Cadet School in Ostrów Mazowiecka, where all cadets were to train. It was then that the parachute tower was built in Pola Mokotowskie in Warsaw. By 1939, 17 such towers had been built in Poland.
In 1939, it was established at the airport in Bydgoszcz Wojskowy Ośrodek Spadochronowy (eng. Military Parachuting Station)., which from May 1 trained candidates for airborne troops. On August 5, 1939, 80 officers and non-commissioned officers, graduates of the Warsaw Military University, completed their first full course. They were trained in day and night jumping, hand-to-hand combat, shooting with various types of weapons and in diversion: destroying bridges, viaducts, and railway tracks.
After the outbreak of World War II, the soldiers of the WOS from Bydgoszcz participated in the formation 1st Independent Parachute Brigade. It was the largest of the non-British units of the Army Air Corps. The English intended the brigade commander, Gen. Stanisław Sosabowski, to appoint the commander of the British-Polish parachute division! The Staff of the Supreme Commander did not agree to this, because in Polish plans 1 SBS was to be used to support the planned general uprising in Poland.
On June 21, 1940, the British RAF created the in Ringway Parachute Training School near Manchester. Its first commander was Lt. Jerzy Górecki. Poles, soldiers of the WOS Bydgoszcz, were also instructors and trained 4825 paratroopers - Belgians, French, Norwegians, Czechs and Poles - Cichociemni (eng. Silent Unseen). From March 1, 1941, Polish paratroopers, including the Cichociemni (Silent Unseen) was trained also in Largo House near Leven (Largo Low, County Fife, Scotland, UK). Poles also built Lundin Links, near Largo House, a 24-meter parachute tower operating from August 25, 1941, the first in Great Britain (it was called the Polish tower). 

Polish Paratroops. Spadochroniarze polscy
wyd. prawdopodobnie Sztab Naczelnego Wodza, 1944
ze zbiorów Marcina Zugaja. Bardzo dziękujemy!
Wojciech Markert – Organizacja I Alianckiej Armii Powietrznodesantowej, 1944-1945
w: Przegląd Historyczno – Wojskowy, 2012,nr 13 (64)/ 1 (239), s. 83-108
After the war, the first airborne unit was created in June 1957 - 6 Pomorską Dywizję Powietrznodesantową in Kraków. The parachuting sport was becoming immensely popular in Poland during this time.
A Polish special force – GROM, named in honour of the Silent Unseen, paratroopers of the Home Army is Poland's leading special-operations unit. - See also: JW GROM.
Find of more:
---
Text translated from Polish to English by Amadeusz Lange. Some of our pages are still under construction and translation, please be patient – we constantly update our site. If you would like to help the project grow, please contact the administrator at cichociemni@elitadywersji.org or directly with the author of the translations at amadeusz-lange@elitadywersji.org.
Please help us improve our project by sending us scans of documents, archival materials, donations and information about the Silent Unseen.