V-1  German Vergeltungswaffe-1,vengeance weapon no. 1) – German unmanned cruise missile Fieseler Fi 103 (nazwa utajniona: Frakzielgerat FZG-76), zwany "latającą bombą", o kryptonimie "Kirschkern" (pestka wiśni).
V-2

  German . Vergeltungswaffe-2,vengeance weapon no. 2) – German ballistic missile (SSM) Aggregat 4, A4.
On July, 5th 1927 in Wrocław, Society for Space Travel (German: Verein für Raumschifahrt) was founded. A pioneer in rocket science, an engineer Johannes Winkler was the founder and the first president of the VfR. Its other members were i.a.: Rudolf Nebel, Wernher von Braun, Hermann Oberth, Walter Hohmann, Hermann Noordung. The Society published its own magazine Die Rakete (Rocket) and since 1930 would carry out tests on its own property close to the current airport Berlin-Tegel. Their Repulsor rockets reached a level of 1 km.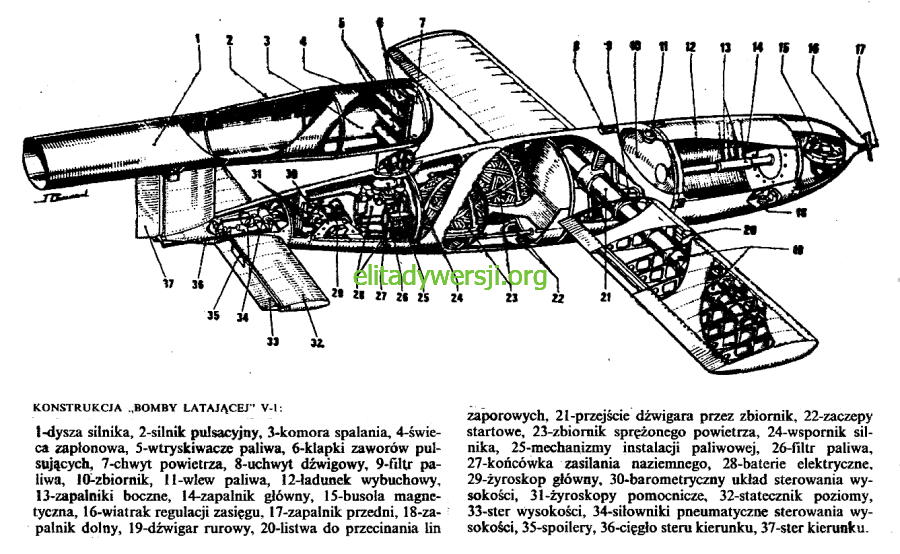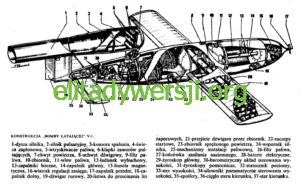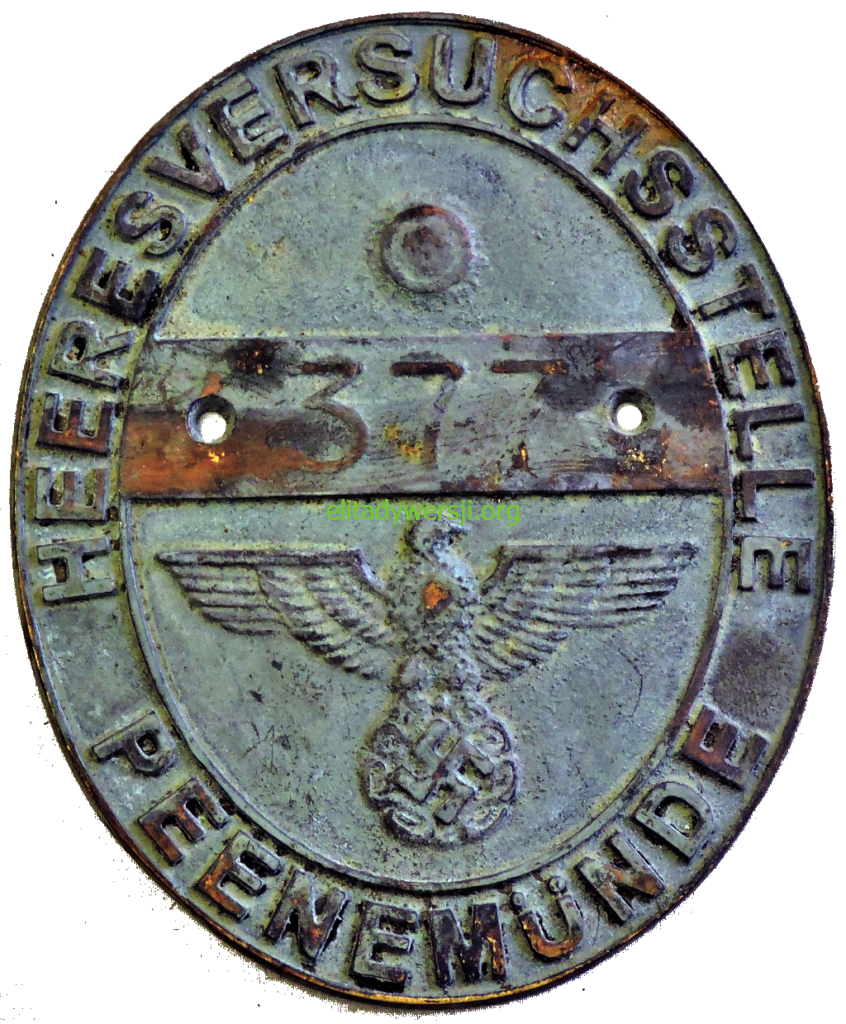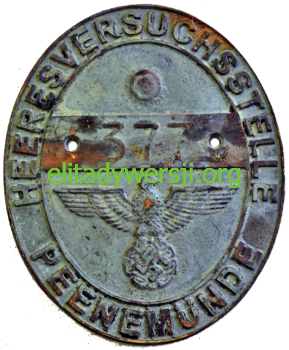 In June 1932 at Kummersdorfrange, the VfR organised for Wehrmacht a show (unsuccessful) of a rocket constructed by engineer Rudolf Nebel.Cpt. Walter Dornberger offered to back the research on the military use of this technique provided the army would be allowed to classify it and take the full control over it. The VfR President Rudolf Nebel rejected the offer however it was accepted by other members i.e. Wernher von BraunIn mid 1934 the German army took control of the VfR achievements and in December 1934 on the Borkum Island the army conducted a succesful attempt to launch a liquid propellant rocket.
In 1936 Wehrmacht and Luftwaffe started to build two classified rocket research centres on the Usedom (Uznam) Island, near Peenemünde.In 1937 two teams started their work independently. The Peenemünde-East Centre operated under Wehrmacht command and was working on the vertical launch rocket (later V-2) under the supervision of gen. Walter Dornberger. The  Peenemünde-West Centre operated under Luftwaffe and was working on the new kinds of aerial weapons (later unmanned jet missile Fi-103, known as V-1) under the supervision of Wernher von Braun.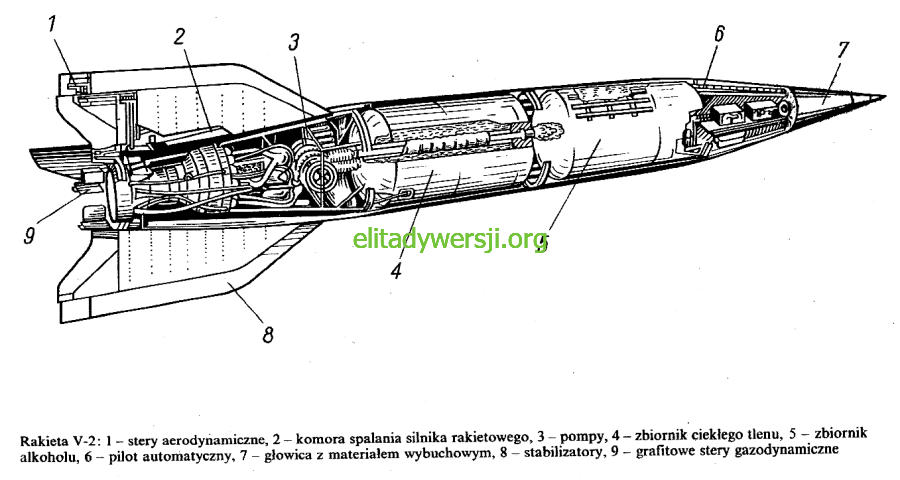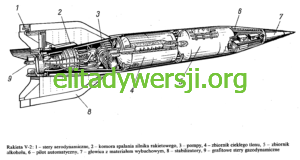 In 1939 an experimental rocket A-5 (weight 1,3 t) reached the level of 13 km. On September 13, 1942 a prototype of A-4 rocket (V2) weight 13 t) flying ballistic track rached the level of 83 km, flew 193 km and fell 5 km from its destination. On December 1943 a first unmanned flying missile Fieseler Fi-103 (V-1) was launched.
The Home Army Intelligence Operations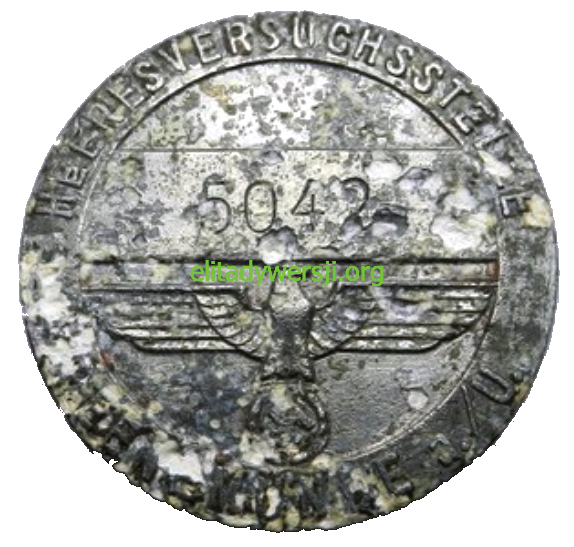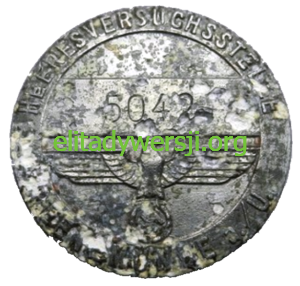 The first intelligence report containing technical parameters of the rockets was delivered to the Allies by the intelligence services of the Home Army on December 2, 1942 dostarczył aliantom wywiad Armii Krajowej. Pochodził od informatora wywiadu AK w czeskiej hucie Witkowice, w której Niemcy eksperymentowali z produkcją specjalnych łusek ze stalowych bloków 70 x 1200 mm, walcowanych w procesie Mannesmana. W styczniu 1943 wywiad AK ustalił także, że 80 proc. używanej rudy żelaza dostarczano ze szwedzkich kopalń Kiruna i Gellivare statkami do Szczecina, następnie barkami do Raciborza oraz koleją do Witkowic.
The most vital information from Peenemünde. was delivered by the sources of the Home Army's offensive intelligence network "Lombard" - the "Bałtyk" cell which was founded and led by Bernard Kaczmarek "Wrzos", "Jur" and further by a Silent and Unseen

Lt. Stefan Ignaszak

pseudonym "Nordyk".
At the beginning of 1943 an engineer Jan Szreder pseudonym "Furman" informed on the existence of a classified centre on the Uznam Island where a reasearch on the air torpedoes was under way and where multiple transports of machinery and materials were being sent as well as thousands of prisoners of the concentration and labour camps located there.
In the monthly reports from February and March 1943 , the Home Army Intelligence informed on the construction works in Peenemünde of: "a research and development centre for rocket aircrafts" with 800 km/h propulsion, involving a workforce of 8 thousand people at its factory, with laboratories and an airfield and the whole complex accessed within a few kilometers only with a special pass.
At the night of January 29/30th 1944 a Silent Unseen Stefan Ignaszak pseudonym "Nordyk" who led the "Bałtyk" intelligence network, had an access to the information delivered by the "Bałtyk 303" cell on the German tests of new weapons "V-1" and "V-2" thanks to the help of his source Roman Träger pseudonym "As", "T-2", "Junior" who was a Wehrmacht soldier in a unit installing telephone cables at the Peenemünde Centre. He was the son of agent Augustyn Träger "Sęk", "Tragarz", "T-1", a Polish officer of the 2nd Department (Intelligence Services) of the General Staff of the Polish Army. Roman Träger delivered also the plans of the Peenemünde Centre.
At the night of January 29/30th 1944 a Silent Unseen Stefan Ignaszak ps. Nordyk osobiście rozpracowywał tereny doświadczeń nad nową bronią III Rzeszy w Pustkowie, Blizne. Zdobył mapę SS Truppenubungsplatz Blizne, wykonał zdjęcia rakiety V2, która nie wybuchając wylądowała w pobliżu wsi Mężenin (k. Sarnak), zdjęcia krateru po wybuchu rakiety V2, zdobył jej części (turbiny, dysze, sprężarki), oraz próbki paliwa – nadtlenku wodoru.
In the first phase of the explosions next to Sarnaki - recalled Silent Unseen Stefan Ignaszak pseudonym Nordyk - Nordyk sent there A. Pieńkowski "Klimont" who delivered soon to Warsaw different small remaining parts of the rockets. "Later I went together with "Klimont" to Sarnaki where in a nearby village I took photos of a crater which was so deep I had to reach its bottom by a ladder. On our way back to Warsaw we took a sample of the propellant which was sheltered by a local smith".." (Michał Wojewódzki – Akcja V-1, V-2, Instytut Wydawniczy PAX 1975, s. 244)
In 1943 on April, 22, May, 14, June, 21 and 22 the British Intelligence operated reconnaissance flights that confirmed the Polish Intelligence reports. The British intelligence report "German Long-Range Rocket Development"  was accepted by Winston Churchill oraz wydał rozkaz zbombardowania ośrodka.
W nocy 17/18 sierpnia 1943 miał miejsce nalot aż 597 brytyjskich bombowców. Częściowo zniszczyły one ośrodek, hale fabryczne, osiedle mieszkalne, obóz dla robotników oraz spowodowały 735 ofiar, w tym 178 z niemieckiego personelu badawczego i kierowniczego. Podczas tego nalotu o kryptonimie "Operacja Hydra" zrzucono aż 1795 ton bomb.
After the bombardment V-1 were still being produced in Kassel whereas the production of V-2 was transferred to Mittelbau-Dora (sub-camp of KL Buchenwaldin Nordhausen in the Harz Mountains. The research personnel working on the attempts to launch the rocket was transferred to Blizna near Mielec to the testing ground named Heidelager Blizna "Frieda". The first rocket test there took place on Nov, 5th 1943. Heidelager Blizna, miał kryptonim "Frieda". Pierwszą próbę rakietową na nowym poligonie przeprowadzono 5 listopada 1943.
In this area the Home Army possessed an active intelligence network of Dębica Inspectorate which would send reports on the creation of a research centre there already in September 1943. Once the attempts to launch the rockets were renewed, the Home Army intelligence started to register the launched rockets noting the time they were fired and their itinerary. They tried to collect the pieces which did not explode (first within 15km, then at the range of 150-170 km and even as far as 250-300 from the testing ground). 
On April 24th 1944 the Home Army intelligence acquired an electromagnetic gyrocompass of a V-2 rocket which fell on the farm of Daniel Łopatiuk in Klimczyce Kolonia near Sarnaki. The found liquid after the analysis by prof. Marcelego Struszyńskiego (at the Warsaw's University of Technology) proved to be 80% stabilized perhydrol (hydrogen peroxide). The gyrocompass was hidden inside a beehive in the Czuryłłogarden that is why it was not found by Germans who appeared right away in the village in search of the remaining parts of the rocket.
On May 20th, 1944 the Home Army intelligence managed to take over the entire rocket which fell in the muddy wicker field at the Bug river next to Mężenin near Klimczyce. Soldiers of Tadeusz Jakubski ps. Czarny 8 kompanii 22 Pułku Piechoty AK zamaskowali szczątki rakiety sitowiem i wikliną, uniemożliwiając Niemcom jej odnalezienie. Po ok. tygodniu część rakiety przewieziono do Hołowczyc, tam je obejrzano, zmierzono i sfotografowano. Najważniejsze elementy, zapakowane w skrzynie oraz worki, przetransportowano trzema ciężarówkami (przykryte ziemniakami) do Warszawy.
The analysis of construction and functioning of the V-2 was conducted by engr. Antoni Kocjan engr. Stefan Waciórski and prof. engr. Janusz Groszkowski. who cooperated with the HA intelligence. . They worked out that a V-2 had a liquid propellant engine composed of a proper propellant and oxidizer. The rocket was controlled by a servomechanism steered by a gyrocompass and that in the initial phase a radio navigation was possible.
On June 12, 1944 and and July 3rd, 1944 these findings were sent to London through radiotelegrams no.366 and 403/1327. In general, the HA intelligence delivered 4 radio telegrams and 2 monthly reports in 1943, and as for 1944: 15 telegrams and 5 monthly reports on the German V-1 and V-2 rocket tests. What is more, Poles operating in France sent to London 173 reports as to the location of the V-1 launchers, 5 reports on the location of the V-2 launchers and 2 reports on the place where German launchers' personnel was staying.
V-1 o długości 8,3 m, masie całkowitej 2 200 kg (830 kg ładunku wybuchowego, 650 kg paliwa) osiągała prędkość 580-640 km/gpdz., miała zasięg 300 km. Wymagała tylko 240 godz pracy przy produkcji, jej koszt wynosił 5 tys. marek. Niemcy wyprodukowały 30 tys. rakiet V-1, użyto 22 tys., do celu dotarło ok. 75 proc.
V-2 o długości 14 m, masie całkowitej 12 700 kg (980 kg ładunku wybuchowego, 5000 kg płynnego tlenu, 3500 kg spirytusu) osiągała prędkość 5 tys. km/godz, wysokość lotu 90 km, miała zasięg 300 km oraz czas lotu 5 min. Wymagała 13 tys. godzin pracy podczas produkcji, jej koszt wynosił ok. 100 tys RM. Niemcy wyprodukowały 5,6 tys. rakiet V-2, użyto 5,5 tys., w tym do celów bojowych 5 tys.
Prowadzono prace nad rakietą V-4b o zasięgu zwiększonym do 600 km, a także nad dwustopniową rakietą A-9/A-10 do bombardowania USA, o zasięgu 5 tys. km.
Operation Wildhorn (MOST 3/BRIDGE 3)
At the night of July 25/26th 1944 the legendary operation MOST 3/BRIDGE 3 took place when Dakota KG-477 "V" with Polish-British crew (267 RAF Squadron and 1586 PAF Squadron ) landed on the "Motyl' airfield at the Kisielina river near Wał-Ruda, 18 km from Tarnów (N50°08′ E20°47′). The main purpose of the operation was delivering information and parts of V-2 acquired by the HA intelligence in the occupied territory of Poland to the West.
A Home Army intelligence officer Lt. Jerzy Chmielewskipseudonym "Rafał" took to London seven key elements of the rocket and a 30 page "Special Report 1/R no. 242 Rocket missiles". Później m.in. jako instruktor "Oficerskiego Kursu Doskonalącego Administracji Wojskowej" (kamuflaź polskiej szkoły wywiadu) szkolil Cichociemni (eng. Silent Unseen) – przyszłych oficerów wywiadu Home Army (pol. Armia Krajowa) nt. realiów okupowanej Polski.

The report contained:
18 pages of the general text




12 appendices,

65 photographs with description,

12 drawings – outlines of the radio and steering devices, pomp, engine etc.

Description of the construction and operation of the rockets,

Description and the map of Blizna testing ground,

Description of the launcher accessory,

Register of 118 rocket flights (when launched and fell),

A list of factories producing parts for V-2,

Data sheet, including flights and the results of the explosions,

Register of tags and inscriptions on the elements of V-1 and V-2.
5 minutes after touching down the Dakota was ready to fly back however its wheels sank in the muddy field. Finally the 4th attempt was successful and the aircraft reached Campo Casale at 5.43 after a 10.15 h flight (stay on the airfield included).
On July 28th 1944 an aircraft with the intelligence report and parts of the rocket touched down on RAF Hendon (now RAF Museum). 
Kazimierz Iranek Osmecki – Meldunek specjalny 1/R. Nr 242. Pociski rakietowe
w: Zeszyty Historyczne, Instytut Literacki Paryż 1972, zeszyt 22, s. 65-81
Maciej Żuczkowski - Wywiad Armii Krajowej (Eng. Intelligence of the Home Army)
w: Pamięć.pl nr 4-5/2012, Instytut Pamięci Narodowej Warszawa, s. 44 – 49
Grażyna Bołcun – Wyrzutnia pocisków rakietowych V1 i V2 w Bliźnie (Eng. V1 and V2 rocket launcher in Blizna)
we wspomnieniach kpt. Józefa Rządzkiego ps. Boryna
komendanta obwodu AK Kolbuszowa "Kefir": 1942-1945
w: Rocznik Kolbuszowski 2015 nr 15, s. 7-26
Wkład polskiego wywiadu w 1945 ocenił oficer łącznikowy MI6 (1940-1946) komandor Wilfred Dunderdale:
"Spośród 45 770 raportów wywiadowczych z okupowanej Europy, które dotarły w czasie wojny do aliantów,
22 047, czyli 48 procent pochodziło ze źródeł polskich (…)
Wynika z tego, że w ciągu ostatnich pięciu lat polscy agenci w Europie pracowali bez przerwy
i że dostarczyli oni, mimo wielkiego zagrożenia dla siebie i swoich rodzin,
wielką ilość materiału wszelkiego rodzaju i obejmującego wiele tematów."
W wywiadzie AK pełniło służbę 37 Cichociemnych…
Sources:
Own sources
Tadeusz Dubicki, Daria Nałecz, Tessy Stirling – Polsko-brytyjska współpraca wywiadowcza podczas II wojny światowej. t. I. Ustalenia Polsko-Brytyjskiej Komisji Historycznej, Naczelna Dyrekcja Archiwów Państwowych, Warszawa 2004, s. 472-481, ISBN 83-89115-11-5
Andrzej Glass – Akcja V-1 i V-2 – wkład Polaków w rozszyfrowanie tajnych broni niemieckich, w: Polska myśl techniczna w II wojnie światowej. Materiały pokonferencyjne. Warszawa, 2015 s. 134-150 , ISBN 978-83-63050-28-3
Michał Wojewódzki – Akcja V-1, V-2, Instytut Wydawniczy PAX 1975
---
Text translated from Polish to English by Aleksandra Duda.
Some of our pages are still under construction and translation, please be patient – we constantly update our site. If you would like to help the project grow, please contact the administrator at cichociemni@elitadywersji.org. Please help us improve our project by sending us scans of documents, archival materials, donations and information about the Silent Unseen.