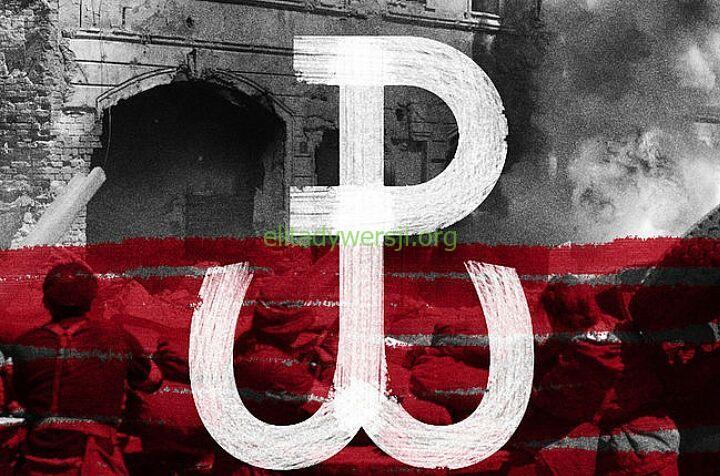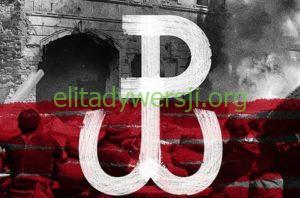 Warsaw Uprising (eng. Warsaw Uprising) was an armed action organized by the Home Army – Armia Krajowa against Germans who were occupying Warsaw. It lasted from August, 1 till October, 2 1944.
According to different sources it united the following military organizations: the Home Army - AK 50 000 soldiers), National Armed Forces - NSZ (740 -3 500), People's Army – AL, the Union of Youth Struggle - ZWM (270-800), Security Corps - KB (600-700) and the Polish People's Army (120-500).
A few hundred foreigners (from 17 countries) are reported to have taken part in the Rising. All military organizations operated under the Home Army's command.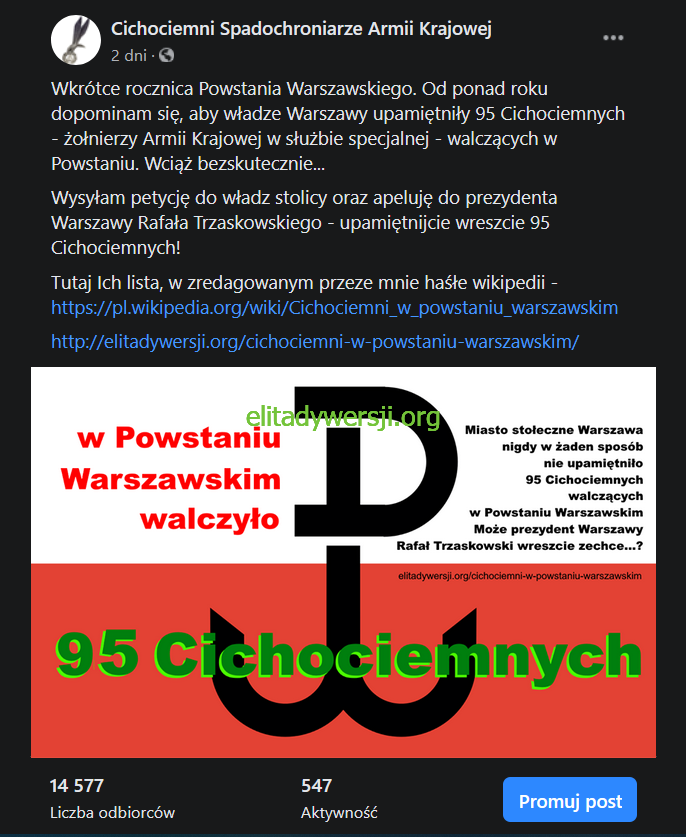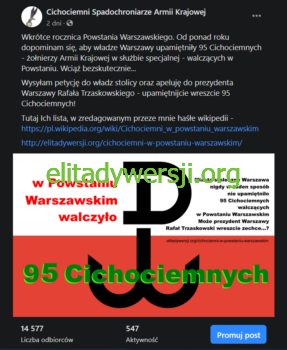 Among nine persons in the HQ of the Warsaw Rising there were two Silent and Unseen soldiers: gen. Leopold Okulicki "Kobra", Deputy Chief of Staff of the HA HQ and Col. Kazimierz Iranek – Osmecki "Heller", the Head of Department II (Intelligence) of the HA HQ.
There were 7 Silent and Unseen among the HA HQ (I rzut), 5 Silent and Unseen and 2 Silent and Unseen in the command of the Comm unit no. 39. The Silent and Unseen were commanders in the HA units, were Intelligence and Comm officers, served in all radiostations during the Warsaw Rising (Wanda 1, 2, 3, 4, 7, 9, 13, 23, 23A).
See Silent and Unseen who took part in the Warsaw Rising (wraz z Ich przydziałem) a także wykaz zrzutów materiałowych z zaopatrzeniem dla Powstania.

The Warsaw Rising was not the outcome of a concept of a national uprising  but it was an element of a separate HA operation named Operation Tempest. It was the greatest battle of the HA and the greatest battle of the Silent and Unseen, who were the soldiers of the HA for special duty assignments. What is more, it was the greatest armed action in conspiracy against Germans in the occupied Europe.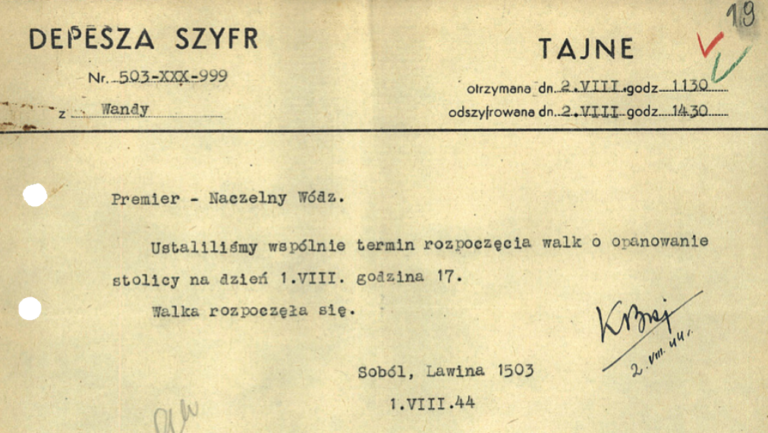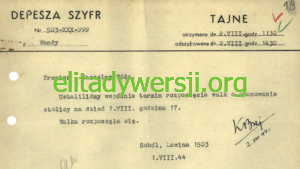 dr Waldemar Grabowski – Pierwsza depesza powstańczej Warszawy
w: Biuletyn IPN nr   7-8 (164-165), lipiec – sierpień 2019
Zbigniew S. Siemaszko – Okoliczności rozpoczęcia Powstania Warszawskiego
w: Zeszyty Historyczne, Instytut Literacki Paryż 1985, zeszyt 72, s. 159-176
(oprac. KJW) Grzegorz Jasiński – Broń w Powstaniu Warszawskim
w: Biuletyn informacyjny AK nr 08 (340) sierpień 2018, s. 15 – 26
The Rising broke out to liberate the city before the Soviets and was aimed to stop or impede the expected postwar sovietisation of Poland. This strategic objective was not met and after 63 days of fighting the HA signed the capitulation act.
After the start of the Rising the Soviet Red Army stopped their offensive and was standing idly by on the right river bank of the Vistula River till the Rising fell. The Soviet dictator Józef Stalin Stalin did not allow for any help to be given to the insurgents. A limited support offered by the USA and Great Britain had no impact and did not change the military situation of the Rising.
In the course of the Rising ca.16 000 soldiers were killed, 20 000 wounded and 15 000 taken prisoner. 
From the 95 Cichociemnych uczestniczących w Powstaniu Warszawskimthere were 20 wounded or seriously wounded (some several times), 18 were killed in fight or as a result of inflicted wounds.
During the Warsaw Uprising, as a result of air strikes, artillery fire, German crimes - mass murder of civilians,as well as due to very difficult living conditions, about 150-200 thousand people died civilian residents of Warsaw.
According to historians apart from those who got killed in fight about 63 thousand Varsovians lost life because of German war crimes. 550 thousand inhabitants of Warsaw were expelled from their homes, and 100 thousand 000 inhabitants of the nearby localities. 150 thousand of them were sent to forced labour to the Third Reich.
Najważniejsze depesze i dokumenty Powstania Warszawskiego
Tadeusz M. Płużański - Warsaw Uprising
– największy niepodległościowy zryw Armii Krajowej
i największa akcja zbrojna podziemia
w okupowanej przez hitlerowców Europie
w: Biuletyn Informacyjny AK lipiec – sierpień 2006, s. 9 – 13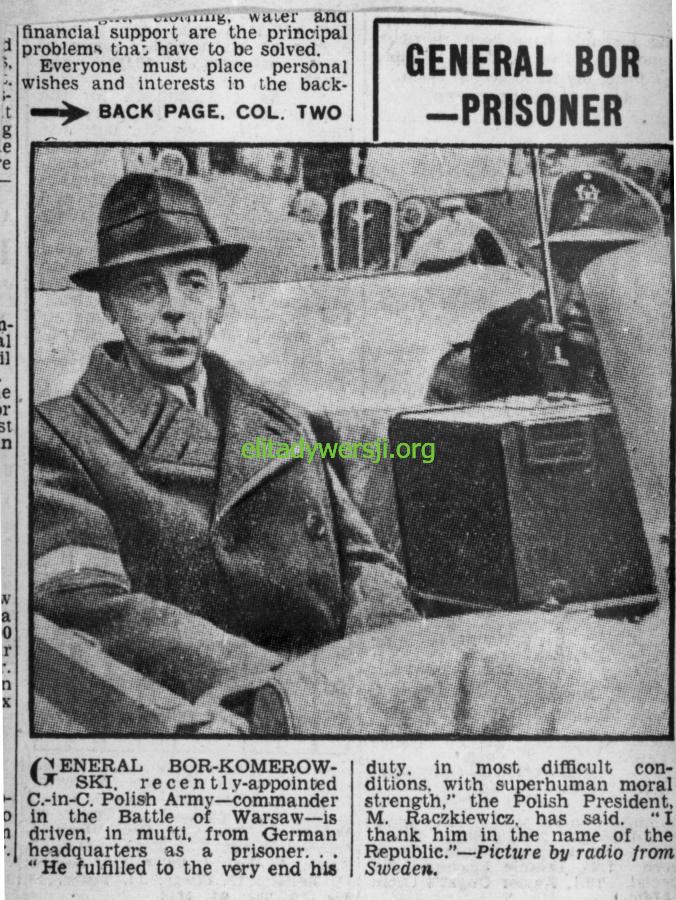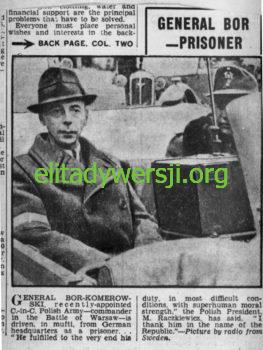 The decision taken by the HA to start the Rising was of political character. Still today it is being discussed by historians as so many civilians got killed and planned demolition of Warsaw by the Germans. Dowództwo Armii Krajowej nie miało jednak żadnej realnej możliwości przewidzenia takiego zbrodniczego zachowania Niemców…

In the course of the Rising 25% of the architectural substance of the city was demolished on the left river bank of the Vistula river with almost 100% buildings of the Old Town. A substantial part of the "destruction plan" was a result of putting fire to the whole districts by Germans who acted upon the orders of their Command. Furthermore, Germans torn down to foundations ca.30% of the prewar buildings between October 1944 and January 1945.
In total, ca. 65% of the prewar Warsaw's architectural substance was demolished which resulted in 20 mln square metres of debris…

Opowieść o mieście – film ze zbiorów Instytutu Polskiego i Muzeum im. gen. Sikorskiego (SIK 029)
Zbigniew S. Siemaszko – Łączność radiowa Sztabu N.W. w przededniu Powstania Warszawskiego
w: Instytut Literacki Paryż, 1964 r., Zeszyty Historyczne nr. 6, s. 64 – 116
Aleksander Dobraczyński – Kanały warszawskie. Ich rola podczas Powstania Warszawskiego 1944 r.
w: Koło Byłych Żołnierzy AK – Oddział Londyn, polishresistance-ak.org
Andrzej Paweł Przemyski – Amerykański zrzut lotniczy na powstańczą Warszawę
18 września 1944: kontrowersje – fakty
w: Rocznik Lubelski 1985-1986, nr 27-28, s. 177-187
Zbigniew S. Siemaszko – Powstanie Warszawskie – kontakty z ZSRR i PKWN
w: Zeszyty Historyczne, Instytut Literacki Paryż 1969, zeszyt 16, s. 5-66
On October, 9 1944 Reichsführer-SS Heinrich Himmler issued an order upon which Warsaw was to be razed to the ground and serve solely as a transportation hub for Wehrmacht. All buildings were to be pulled down. Nothing left standing. Only the technical devices and railways indispensable for trains were to be spared from this act of devastation..
Przez trzy i pół miesiąca, rabowano wszystko co miało jakąkolwiek wartość, z domów mieszkalnych, obiektów przemysłowych i budynków użyteczności publicznej. Od połowy sierpnia do połowy grudnia 1944 Niemcy wywieźli z Warszawy 26 319 train cars filled to the roof with raw materials and factory machinery 3 240 train cars of food and 850 lorries with looted things.

After pillage, buildings were set on fire by BrandkommandoAfter a few days buildings were inspected again and if they were "insufficiently" destroyed by flames they were set on fire again. The work of Sprengkommando consisted in detonating chosen buildings with priority to those of special cultural and sacral heritage.
"Miasto ruin" directed by Damian Nenow – a digital reconstruction of the destruction of Warsaw
The HA telegram with the text of the Capitulation Act
Source: The Polish Underground Movement Study Trust w Londynie
Find of more:
---
Text translated from Polish to English by Aleksandra Duda.
Some of our pages are still under construction and translation, please be patient – we constantly update our site. If you would like to help the project grow, please contact the administrator at cichociemni@elitadywersji.org. Please help us improve our project by sending us scans of documents, archival materials, donations and information about the Silent Unseen.