Silent Unseen (pol. Cichociemni) were soldiers of the Home Army in special service
The Silent Unseen were a special group of soldiers, coming from the Polish Armed Forces in the West and the Anders' Army, who volunteered to fight in occupied Poland.
They differed from the original army structure greatly, they did not form a compact formation, they did not have a separate command structure, uniform, banner or patron. The Silent Unseen were individualists to a large extent - essentially they were Poland's elite specialists dedicated to special tasks in the occupied country.
---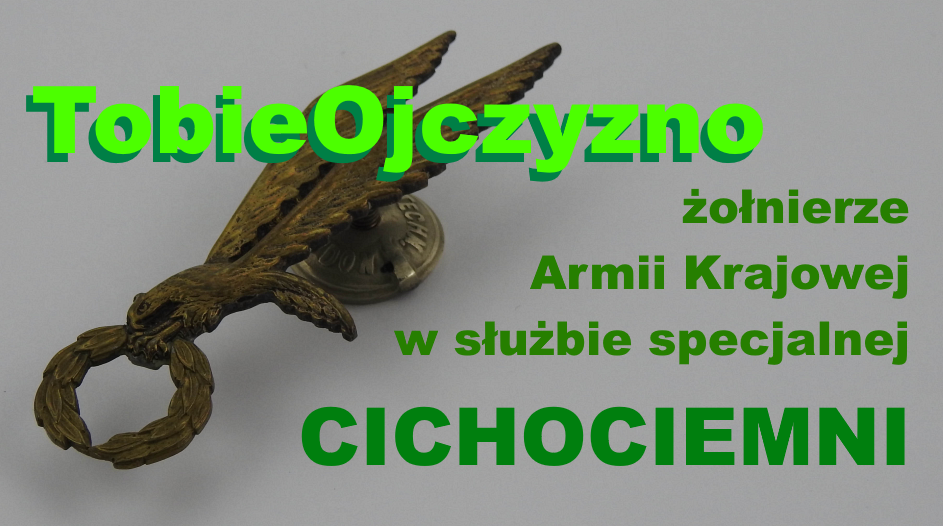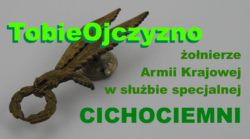 Table of Contents
---
How were the Silent Unseen trained?
The training methods were adjusted to meet the needs of the Home Army. The Silent Unseen were trained accordingly to what skills and expertise was required to fight for Poland's freedom. The programmes of the training underwent constant change over the course of World War 2. Every candidate however, had to successfully complete the parachuting course and the final course. On top of that, the candidates participated in training courses that would enhance their personal skill sets and abilities, as well as courses that would benefit the structure of the Home Army in Poland.
Pierwszy kurs dla kandydatów na Cichociemnych rozpoczął się Autumn, 1940  w Inverlochy Castle k. Fort William (hrabstwo Highland, Szkocja, Wielka Brytania). Zamek Inverlochy, wybudowany w 1866, posadowiony został nieopodal najwyższego szczytu Szkocji – Ben Nevis. Jednym z zadań podczas kursu było… samotne zdobycie tego szczytu. Cichociemny Antoni Pospieszalski wspominał, że zajęło mu to sześć godzin. Okolica idealnie nadawała się do szkoleń żołnierzy wojsk specjalnych:  lasy, góry, jeziora, plaże… Zajęcia praktyczne z uzbrojenia, materiałów wybuchowych, walki wręcz zaplanowano na ok. 90 godzin, zajęcie teoretyczne nt. organizacji sił wroga zaplanowano na cztery godziny.  Na kursie dywersyjno – strzeleckim oraz sabotażu przeszkolono 74 kandydatów, głównie oficerów z 4 Brygady Kadrowej Strzelców.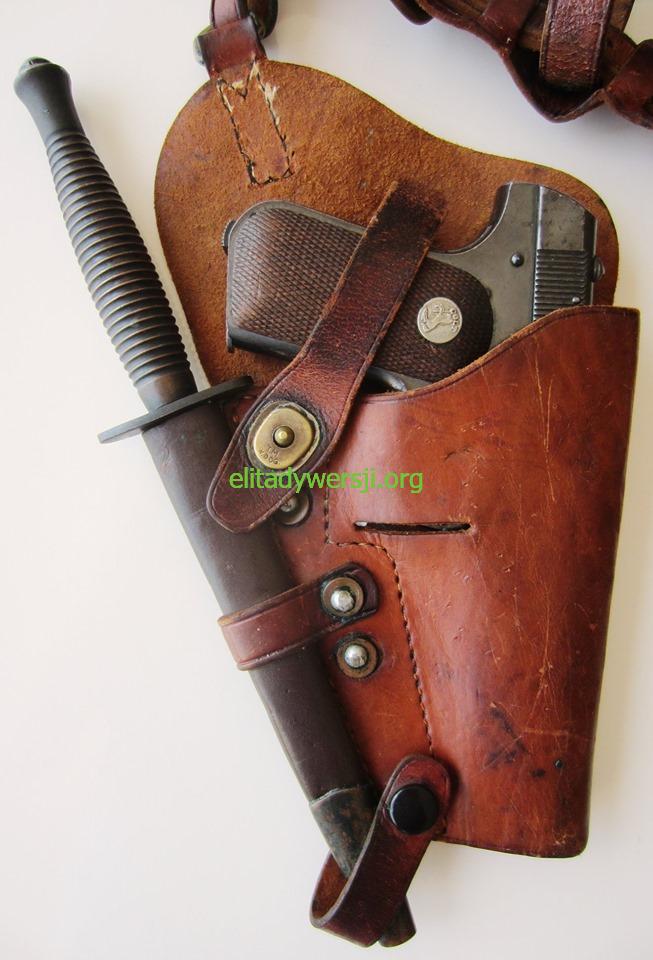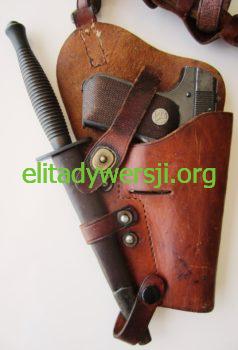 The last 'final course' (a course that would end the training cycle) finished on the 21st of September, 1944 in Great Britain (and the 27th of July, 1944, in Italy).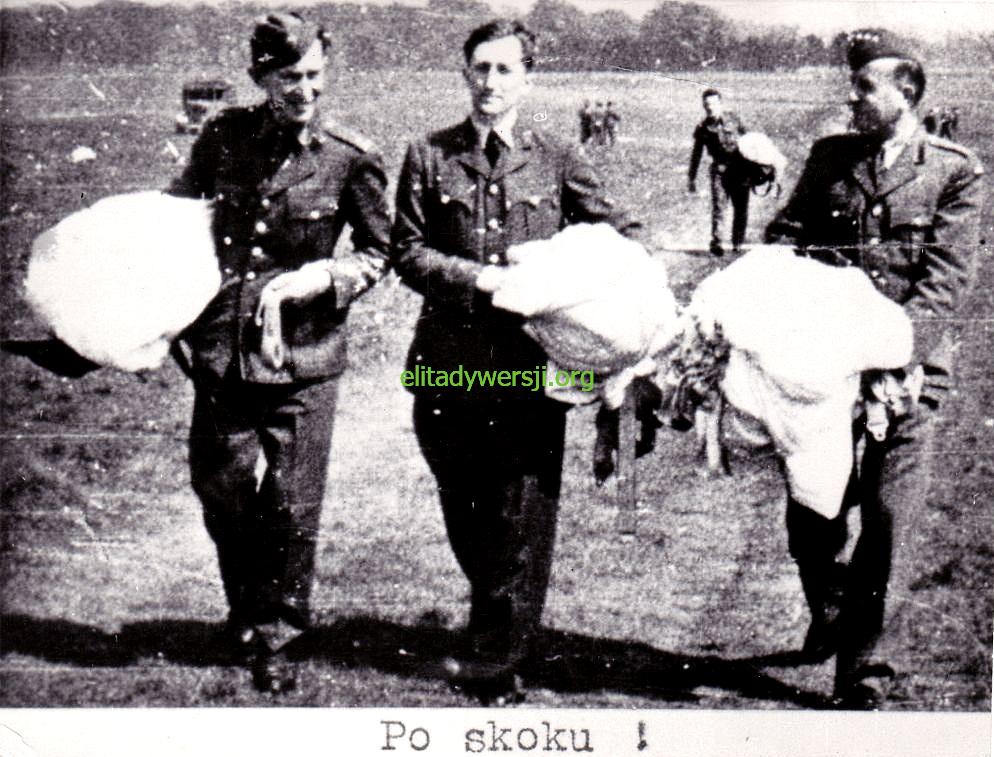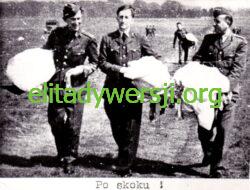 Candidates were trained on a largely individual basis, there were approximately 30 specializations and approximately 50 secret Special Training Schools that belonged to the SOE The troops were also trained in Polish facilities, for example in Ostia, Italy.
The most famous training station was STS 43 Audley Endit was exclusively dedicated to the needs of the Polish section of the Special Operations Executive The already trained Silent Unseen who were planned to be airdropped would go to secret 'waiting stations', where they would wait until they were ready to be transferred to Nazi-occupied Poland. In other various locations, the Silent Unseen were trained to forge documents (and money),and prepare containers that would be airdropped to the country. Additionally, the Poles have worked on radiocommunication equipment that would be used in Poland. The Polish Wireless Research Unit (pol. Polskie Wojskowe Zakłady Radiowe). was based northwest of London, in Stanmore. Their task was to produce specialist radiocommunication equipment, including the highly acclaimed ''spy radio'' - AP radio set, constructed by a Polish engineer Tadeusz Heftman.

See a list of ''Polish'' SOE facilities.

Nie było jednego "kursu Cichociemnego" lecz cztery grupy szkoleń, każdy po kilka kursów:
Fundamental courses:

zaprawowy, badan psychotechnicznych, spadochronowy, walki konspiracyjnej, odprawowy

Specialization courses:

radiotelegrafistów / radiomechaników, szkoła wywiadu, kurs służb lotniczych, kurs pancerny / przeciwpancerny, kurs kierowców, kurs legalizacji (fałszowanie dokumentów)

Supplementary courses:

walk ulicznych, domowego wyrobu materiałów wybuchowych, mikrofotografii, komandosów, informacyjno – wywiadowczy, przetrwania (tzw. kurs "korzonkowy"), czarnej propagandy, tworzenia "legendy", zmiany wyglądu zewnętrznego i in.

Practical courses:

były elementem każdego z w/w kursów.
Fundamental courses:
Physical conditioning course - it encompassed elements of physical training, methods of diversion, explosives training, sharpshooting, shooting, topography and hand-to-hand combat. The candidates were taught about how the enemy forces were organized, the basics of radio communications and the English language. The soldiers were prepared to meet physical requirements through a regime of strenuous physical training, including cross country running whilst wearing full equipment.
Uczono technik i metod dywersji, posługiwania się ładunkami wybuchowymi. Kandydaci musieli umieć odnaleźć się w terenie, uczono walki wręcz, walki nożem  dżu-dżitsu. Podczas tego kursu kandydatów obowiązywał zakaz wchodzenia gdziekolwiek bramą, drzwiami lub furtkami, kandydaci skakali więc przez płot i wchodzili oknami…

Instruktorami szkoleń z zakresu walki wręcz, nożem, strzelania instynktownego, w zwarciu, zwanego potem Point Shooting, byli: kpt. William Ewart Fairbairn and Eric Anthony Sykes, oficerowie i twórcy Shanghai Riot Squad – jednostki sił specjalnych szanghajskiej policji (pierwszej na świecie jednostki policyjnej typu SWAT), walczącej m.in. z chińską mafią.
Cichociemni szkolili się w walce wręcz, nożem i strzelaniu instynktownym w ośrodku SOE – Comando Basic Training Centre, Achnacarry House w Szkocji, używali w walce sztyletu szturmowego Fairbairna-Sykesa (F&S).

Candidates were trained on how to use various types of weapons, and how to shoot accurately from a range of different positions, for example whilst running, without having time to aim. Some of the weapons included the Brenlight machine gun, Thompson, Suomisubmachine guns, Wabley-Scot, karabinu przeciwpancernego Boyspistol, the German Schmeisser, a także moździerzy używanych przez piechotę. Szczegółny nacisk we wszystkich szkoleniach kładziono na praktyczne wykorzystywanie nabywanych umiejętności. W latach 1940 – 1942 kurs organizowano w STS 25 in an Inverlochy Castle, później (1942 – 1944) w Garramour k. Airsag. Kto nie ukończył kursu zaprawowego – nie miał żadnych szans, aby zakwalifikować się na kolejne szkolenia.

Psychological and technical course - organised by the British in STS 7a in Guildford, not much is known about it. It lasted no longer than two weeks. The course has been successfully completed by 194 candidates.

Parachuting course - the course consisted of physical training and practical classes that aimed to prepare candidates for a parachute jump, the training took place in 3 locations.
W otwartym 21 czerwca 1940 brytyjskim ośrodku treningowym spadochroniarzy – Parachute Training School w Ringway near Manchester ( STS 51).
W działającym od 1 marca 1941 polskim ośrodku spadochronowym w Largo House pod Leven (Largo Low, hrabstwo Fife, Szkocja, Wielka Brytania). Od stycznia 1944 także w polskiej Polish base no. 10 in an in Ostia , near Brindisi (Italy). Candidates were trained there from January, 1944.
The training course at Ringway lasted one week whilst courses at the Polish centres lasted from two to four weeks. The basics of the course included: intensive physical training, long runs (everyday), marches, obstacle courses and jumps from a two/three metre ''podium''.

The trainees practiced parachute jumping on the parachute jump tower in Lundin Linksthe tower itself was built by Poles near Largo House, funkcjonującej od 25 sierpnia 1941 24-metrowej wieży spadochronowej (pierwszej w Wielkiej Brytanii). W kolejnym etapie szkolenia kandydaci skakali ze spadochronem z samolotu oraz z balonu. Używano spadochronu desantowego typu Irvin QD, każdy kandydat miał obowiązek oddania kilku skoków (5 – 8) w dzień i jednego nocą. 
The Polish training centre at Largo House was often called ''Malpi Gaj'' (eng. ''Monkey Grove'') by the candidates, it was located among old oaks, which created a 'grove' atmosphere. On the other hand, the candidates were expected to have monkey-like dexterity and participated in various exercises that resembled the activities of monkeys, such as climbing from tree to tree with the help of nothing but branches. The front gate of the facility had a sign with Polish writing on it''Are you looking for death? Enter for a while.''In total, the parachuting course was completed by 703 candidates have completed it successfully.

Szkolenie brytyjskich spadochroniarzy, 1941
podobnie szkolono polskich spadochroniarzy oraz Cichociemnych
Covert-operations course – zwany też kursem walki dywersyjnej. Początkowo nosił nazwę "kursu organizatorów", bo miał przygotowywać jego uczestników do organizowania i przygotowywania przyszłego powstania powszechnego. Jego podstawowym celem było przygotowanie Cichociemnego do prowadzenia walki niewielką grupą żołnierzy – kilkuosobowym zespołem dywersyjno – sabotażowym działającym w warunkach konspiracji. Zaprawę fizyczną wyrabiano m.in. na torze przeszkód, na przeprawie linowej przez rzekę, a także podczas kilkunastokilometrowych biegach przełajowych ze sprzętem. Doskonalono umiejętności strzeleckie oraz minerskie, m.in. z użyciem "plastiku" oraz zapalników czasowych typu ołówkowego, także podkładania ładunków wybuchowych "domowej roboty".
Candidates were taught how to use communication equipment and how to plan and carry out combat operations. They were also trained on how to establish contacts and how to collect and send useful (e.g. ciphers) information to the right place. Orienteering marches were organised, giving the candidates the chance to learn navigational skills which were needed to reach their destination in time. The shooting exercises varied greatly, as candidates were expected to shoot targets, mannequins, in darkness, whilst moving, whilst on an assault course or even whilst… climbing a rope. The candidates were also learning the basics of intelligence work, map reading, driving all sorts of vehicles and… operational tactics of the SS.

Podobnie jak w przypadku innych kursów, uczono praktycznego wykorzystania nabytych umiejętności. Kandydaci byli np. wywożeni samochodem (z zasłoniętymi szybami) w nieznaną okolicę, z której musieli w określonym czasie dotrzeć do zaznaczonego na mapie punktu docelowego. Nie mogli pytać o drogę miejscowej ludności, musieli unikać patroli brytyjskiej policji lub Home Guard (Obrony Narodowej). Kulminacją takich ćwiczeń było przeprowadzenie "akcji dywersyjnej" w pobliskiej miejscowości, np. podłożenia łądunku wybuchowego (ładunek był nieuzbrojony) lub "napadu na bank", przy czym Brytyjczyków nikt nie uprzedzał o akcji, ani też o jej ćwiczebnym charakterze. Czasem jednak Brytyjczyków uprzedzano i mieli uniemożliwić przeprowadzenie akcji (nigdy im się nie udało).
W latach 1941 – 1942 kandydatów szkolono w STS 38 in an Briggens (zorganizowano dwa kursy, podczas których przeszkolono 12, następnie 15 kandydatów). Od 1 maja 1942 na kursie walki konspiracyjnej szkolono w STS 43 in an Audley End niedaleko Cambridge, od 1 maja 1944 także (równolegle ze szkoleniem w STS 43) w polskiej Polish base no. 10 in an in Ostia Italy. The covert-operations course was completed by a grand total of 630 candidates, it was not compulsory to attend this course if a candidate was selected for work in intelligence, aviation, radio communication.

It is worth mentioning that after one ''training action'' (that lasted two minutes) in a small town of 10,000 citizens in Great Britain, the unnotified British Police have arrested dozens of people, in an effort to find the people responsible for the exercise. 
Zobacz także – Silent Unseen in a diversion
Final course - was the last training course for the candidates. Its aim was to transform the candidate into a conspirator that would work in occupied Poland. The first thing that needed addressing was the so-called 'legend', an extensive, but mostly fabricated set of lies that fit one another, ultimately forming an identity for the candidate. The course is said to be called ''The Higher School of Lies'' by the candidates. A comprehensively trained special forces soldier was transformed into an ordinary citizen of Poland. Sometimes to make the lie more legitimate, the future Silent Unseen would train the basics skills and lingo of a trade that they would ''work'' in whilst in Poland...

During the final course, the soldiers were given information on the conditions of the occupied country, they have learned the structure and functioning methods of the Polish Underground State as well as how the German authorities operated. Candidates were also exposed to the methods of investigation and interrogations conducted by the Gestapo and how to convincely mislead them if caught. Sets of documents that fit the aforementioned 'legend' were forged, clothes that reflected occupied-Poland were collected, and equipment was assembled. Candidates had access to the national press: underground and Nazi, they have also spoken to couriers arriving from the occupied country.
Początkowo kurs miał postać serii wykładów dla kandydatów, organizowanych w tajnym lokalu w London, przy Queen's Gate Terrace 1. W zorganizowanej formie pierwszy kurs odprawowy przeprowadzono w lipcu 1942 w STS 43 in an Audley End niedaleko Cambridge, po 15 lipca 1943 szkolono także w STS 46 in an Michley near Newport as well as Chichely Hall (Buckinghamshire, w marcu 1944), od 1944 w polskiej Polish base no. 10 in an in Ostia near Brindisi. The course lasted from two to six weeks, a grand total of 606 candidates have completed it successfully.

Specialization courses:
Telegraphist and radio mechanic course - candidates were trained in the Training Centre of the Disposition Section of the Special Department of the Commander-in-Chief. The centre was subordinate to Division VI (Special) of the Commander-in-Chief's Staff, its commander was Lt. Col. Wiktor Bernacki. 
The telegraphist course lasted approximately three months whilst the radio mechanics course lasted from six to ten months. Radio commanders and officers of radio communication network organizers were also trained. Initially training courses (1941-1942) were delivered in Anstruther (Fife county, Scotland, Great Britain), near the 1st Independent Parachute Brigade. At the end of 1942, a separate training centre for communication officers was organized. In the years 1942–1943, they were trained in the buildings of the Auchtertool brewery (Fife county, Scotland, Great Britain), later (1943–1944) in the buildings of Saint Margaret's School for Girls in Polmont ((Stirlingshire, Scotland, Great Britain).
The candidates specializing in radio communications were also taught how to use transponding radars, such as the Eureka and S-fon (radiotelephone), on a separate British course The Eureka&S-Phon in an STS 40 (Howbury Hall) along with STS 61 (Gaynes' Hall).
Skills to operate ground-airman communication devices were required of all Silent Unseen candidates. The candidates would practice their skills during parachute jump exercises. A separate four-month course on organizing radio communications in combat conditions was organized in Cowdonbeatch (Scotland).
The course was completed by 213 candidates, 51 of them have been airdropped to Nazi-occupied Poland (including one courier). The already trained candidates for the communication officer role, if qualified for being airdropped to the country, would continue their training cycle at STS 43 in an Audley End near Cambridge.
The other radio officers have worked at the HQ of the Commander-in-Chief's Staff: at the broadcasting centre Chipperfield Lodge, receiving station Barnes Lodge near Kings Langley (Hertfordshire county, Great Britain) and Conington Hall near Cambridge. The radio officers that received this training have also worked at the the Commander-in-Chief's Staff HQ in Italy, the station was nicknamed ''Mewa'' (eng. ''Seagull'') and was located in Mesagne przy Via Appia Antica, 15 km od Brindisi (Włochy), także przy obsłudze radiostacji Oddziału Specjalnego w innych krajach. Niektórzy z przeszkolonych pracowali w odrębnej sieci łączności polskiego wywiadu (m.in. Szwajcaria, Francja, Środkowy Wschód i in.).
Zobacz także –  Silent Unseen in military communications

Polish intelligence school – kurs przygotowujący do pracy w wywiadzie organizowano pod kamuflażem "Oficerskiego Kursu Doskonalącego Administracji Wojskowej", początkowo w tajnym lokalu przy Kensington Park Road W.11, w dzielnicy Bayswater w London, and then in Glasgow, (prawdopodobnie)  w budynku przy ul. 1 Horselethill Street (patrz zdjęcie).
Cichociemni nazywali go "kursem gotowania na gazie". Komendantem kursu był przedwojenny szef kontrwywiadu i wywiadu Sztabu Generalnego WP, płk dypl. Stefan Mayer, who previously selected his staff personally for work in the intelligence service.

W polskiej "szkole szpiegów" także zwracano szczególną uwagę na "praktyczną naukę zawodu". Kandydaci uczyli się sposobów zbierania informacji, werbowania agentów, technik oraz metod działania wywiadu i kontrwywiadu. Początkowo zaplanowano w programie szkolenia 13 przedmiotów oraz 1350 godzin szkolnych, później modyfikowano te plany w zależności od sytuacji. Pierwsze zajęcia rozpoczęły się 3 kwietnia 1941.

The program of the training included intelligence study of two aggressors: Germany and Russia. The basics of radiotelegraphy, chemistry for intelligence purposes, secret correspondence, ciphers, gathering intelligence by photography were all taught as part of the course. The course has also trained the candidates ''Locksmith classes'', or simply put, techniques of breaking in to rooms and opening all sorts of locks. The course was topped off with lessons on how to drive various vehicles, how to build weapons as well as how to use it effectively. Moreover, the candidates had the duty to remain fit through physical exercise and optionally they were able to perfect foreign languages.
The intelligence course usually lasted around six months, it was completed by 73 candidates. After the completion of the course, the candidates received training at in an STS 43 in Audley End End and in the Parachute Training School in Ringway near Manchester (STS 51).
They were dumped to occupied Poland 37 Cichociemnych ze specjalnością w wywiadzie.
Some Silent Unseen candidates (with a different specialization than intelligence) have also trained the techniques and methods that this course taught in a spy school STS 34 in an Bealieu (Hampshire, Great Britain).
Zobacz także – Silent Unseen and intelligence
Stefan Mayer – relacja nt. szkolenia Cichociemnych oficerów wywiadu
źródło: Instytut Piłsudskiego w Londynie, Kolekcja akt Stefana Mayera, zespół nr 100, teczka nr 709/100/113
Air services course - as with other courses, it included theory and practice. Due to the unique needs of the Home Army in occupied Poland, candidates for the Silent Unseen with a specialization in aviation were trained very individually to fit the needs of the resistance movement.

The program of the course included lectures, practical exercises, a special aviation course on pilotage and taught the candidates how to operate German machines, including: Heinkel He 111H, Messerschmitt Bf 110C, Junkers Junkers Ju 88m MesserSchmitt 110 and others. The course on pilotage of the German machines was taught in a secret British unit - 1426 Enemy Aircraft Flight near London.
Candidates for the Silent Unseen with the aviation specialization, including specialists trained in receiving airdropped troops and supplies, have also been taught how to use radio navigation systems, including the Rebecca/Eureka transponding radar and the S-fon radiotelephone. The training course was titled ' The Eureka&Sphon in an STS 40 w Howbury Hall, Bedford and STS 61 (Gaynes' Hall).. Podstaw tych umiejętności wymagano od wszystkich kandydatów na Cichociemnych.

Armoured / Anti-tank course - The candidates were trained using British tanks at the Centrum Wyszkolenia Pancernego i Technicznego (eng. Armored and Technical Training Center) facility in Catterick Camp, od 1944 szkolono w ośrodku przy 2 Korpusie Polskim we Italy. Kurs trwał od czterech do ośmiu tygodni, ukończyło go 43 kandydatów.
In addition, the candidates were trained on German armored and anti-tank equipment during a two-week British armored course.
When the above two courses were completed, the candidates were trained for eight weeks on a Polish motor and communications course in Dundee (Szkocja). Ukończyło go 94 kandydatów. Do okupowanej Polski zrzucono na spadochronie 11 Silent Unseen trained in this specialty were parachuted to occupied Poland.

Drivers course course - Almost all of the Silent Unseen (with a few exceptions) were able to drive a range of vehicles, including German ones. Candidates who did not have these skills were trained on a Polish motor and communications course in Dundee (Szkocja). Ukończyło go 94 kandydatów.

Legalization course - it was an extremely exclusive course for people specialising in document forgery, it was completed by three Silent Unseen, who were transferred to the country. The candidates received training in STS 38 in an Briggens, m.in. pod okiem doświadczonego polskiego fałszerza Jerzy Maciejewski provided the candidates with extensive training in Briggens. 
Brytyjski ośrodek fałszowania dokumentów (także pieniędzy, w tym okupacyjnych złotych), pracował pod kierownictwem Cpt. Morton Bisset'a był zlokalizowany w polskim STS 38 oraz początkowo pracował tylko na polskie potrzeby.

Wkrótce zespół znakomitych fałszerzy, kreślarzy, techników, ekspertów grafologii, przy użyciu różnych specjalistycznych urządzeń, w tym ok. 50 rodzajów drukarek, wytwarzał dla wszystkich agentów SOE dokunenty (w tym m.in. paszporty, prawa jazdy, banknoty) takiej jakości, że były nie do odróżnienia od prawdziwych. 
In total, around 275,000 (sic!) różnych dokumentów dla ruchów oporu w okupowanej Europie.

Supplementary courses:
After completing basic and specialization training, the candidates then received training in the form of ''supplementary'' courses that ranged in nature.
Street fighting course, organized in Londynie, w zburzonej dzielnicy Battersea (London Distric School of tactics street fighting wing).
kurs domowego wyrobu materiałów wybuchowych (Home made devices course) w STS 18 k. Stevenage and STS 37a

Microphotograph course in STS 38 in an Briggens and STS 60

brytyjski kurs komandosów i sabotażystów (trwał miesiąc) w STS 17 k. Hertford


Basic information and intelligence course

obowiązkowy kurs przetrwania w lesie (tzw. kurs korzonkowy), przy 1 SBS, w Dunkeld (Scotland)


polski kurs szturmowy przy 3 batalionie 1 SBS w Szkocji, trwał 2-4 tygodnie

kurs "czarnej propagandy" (Advanced propaganda course), ukończyło go 46 kandydatów


Course centred on creating a believable ''legend''

praktyki kolejowe, w fabrykach samochodów w Lethworth, trwały od kilku dni  do kilku tygodni,
praktyki spawalnicze w London, trwały od kilku dni  do kilku tygodni,

praktyki piekarskie i cukiernicze, w Cambridge, trwały od kilku dni  do kilku tygodni,

praktyki na fermach ogrodniczych w Hertford, trwały od kilku dni  do kilku tygodni,

inne, w tym obowiązkowy (najkrótszy) kurs sposobów zmiany wyglądu zewnętrznego, trwał od 3 do 7 dni, w STS 15a

The candidates that were expected to work at the staff offices in conspiratorial settings were expected to complete a one-year course at the Higher War School, a następnie odbycia praktyki w Sztabie Naczelnego Wodza w Londynie (Wielka Brytania).
Część z nich ukończyła także m.in. kurs walki konspiracyjnej. Do okupowanej Polski zrzucono 24 Silent Unseen that have specialized in staff work.
Practical courses:
Practical courses played a crucial part of every course in each of the training cycles. After all, it was fundamental that all of the candidates were able to apply their knowledge to practice in the complex conditions of an occupied country.
Only after successfully completing all the required courses did the trained candidate have the chance to be qualified to jump, then have the chance to be parachuted to occupied Poland and become a member of the Silent Unseen.
After completing all of the training courses and qualifying for the jump, the candidate for the Silent Unseen would take the oath of the Home Army, chose a nickname and went to the so-called waiting station, where they would wait until the time came for their jump. 
. 2413 candidates volunteered to be trained and eventually become the Silent Unseen: 1 general (Tadeusz Kossakowski), 112 staff officers, 894 junior officers, 592 non-commissioned officers, 771 private soldiers. There were 15 women among the volunteers.
Zobacz także – Cichociemni w Armii Krajowej
Ewa Korsak – Wykuwanie cichociemnych. Jak Polacy szkolili się przed desantowaniem do okupowanej ojczyzny
w:  Polska Zbrojna  kwiecień 2018, nr 4 (864), s. 31 – 22
> 2413 candidates have completed it successfully.
Only 605 of them successfully completed training.
Only 579 qualified for the jump to the country.
They were dumped to occupied Poland 316 Silent Unseen
zobacz – 316 Cichociemnych spadochroniarzy Armii Krajowej
Oddział VI (specjalny) – Werbunek i szkolenie ludzi
Płk dypl. w st. sp. Marian Utnik – Oddział łącznikowy Komendanta Głównego AK
przy Naczelnym Wodzu na emigracji (VI Oddział Sztabu Naczelnego Wodza) część II
w: Wojskowy Przegląd Historyczny, Warszawa 1981, nr 4 s. 151 – 174
---
From the

316

Silent Unseen,




40

have fought for the independence of Poland in 1918-1921:
Leon Bazała (1918-1920) | Jacek Bętkowski (1920) | Jan Biały (1918-1920) | Niemir Bidziński (1920) | Romuald Bielski (1919-1920) | Adolf Gałacki (1918-1920) | Stanisław Gilowski (1918-1920) | Jan Górski (1919-1920) | Antoni Iglewski (1915-1920) | Kazimierz Iranek-Osmecki (1913, 1916, 1920) | Wacław Kobyliński (1918-1920) | Bolesław Kontrym (1917-1918) | Franciszek Koprowski (1919-1920) | Tadeusz Kossakowski (1909-1920) | Julian Kozłowski (1918-1919) | Henryk Krajewski (1918-1920) | Leopold Krizar (1918-1920) | Stanisław Krzymowski (1914-1920) | Adolf Łojkiewicz (1918-1920) | Narcyz Łopianowski (1918-1920) | Zygmunt Milewicz (1918-1920) | Przemysław Nakoniecznikoff-Klukowskand (1913-1921) | Leopold Okulicki (1914-1920) | Mieczysław Pękala-Górski (1918-1920) | Edward Piotrowski (1918-1920) | Jan Różycki (1917-1920) | Roman Rudkowski (1914-1920) | Tadeusz Runge (1917-1920) | Józef Spychalski (1916-1920) | Tadeusz Starzyński (1920) | Tadeusz Stocki (1920) | Aleksander Stpiczyński (1917-1920) | Witold Strumpf (1920) | Adam Szydłowski (1918-1920) | Wincenty Ściegienny (1918-1920) | Witold Uklański (1917-1921) | Józef Zabielski (1920) | Józef Zając (1920) | Wiktor Zarembiński (1920) | Bronisław Żelkowski (1920)


Niepodlegla, Poland, 100 anniversary of re-gaining independence.
Project implemented as part of the celebration of the centenary of regaining independence and the reconstruction of Polish statehood
---
Sources:
Own sources
Krzysztof A. Tochman: Słownik biograficzny cichociemnych. T. I. FKM Oleśnica, ISBN 83-902499-0-1
Krzysztof A. Tochman: Słownik biograficzny cichociemnych. T. II. ABRES Rzeszów, ISBN 83-902499-5-2
Krzysztof A. Tochman: Słownik biograficzny cichociemnych. T. III. OS Ostoja, Zwierzyniec – Rzeszów, ISBN 83-910535-4-7
Krzysztof A. Tochman: Słownik biograficzny cichociemnych. T. IV. OS Ostoja, Zwierzyniec – Rzeszów, 978-83-933857-0-6
Iwan Rafał – Cichociemni – rekrutacja, szkolenie i przerzut do Polski, w: Koło Historii : materiały Koła Naukowego Historyków Studentów Uniwersytetu Marii Curie-Skłodowskiej, Tom 10 (2008) s. 77-106
Drogi Cichociemnych, Koło Cichociemnych Spadochroniarzy AK, Veritas Londyn, 1954
Ian Valentine: Baza 43. Cichociemni, Wydawnictwo "Wołoszański", 2004, ISBN 83-89344-09-2
Jędrzej Tucholski: Cichociemni, IW PAX, 1984
Jędrzej Tucholski: Cichociemni 1941–1945 – Sylwetki spadochroniarzy. Wojskowy Instytut Historyczny
Agnieszka Polończyk, Cichociemni – dzieje elity polskiej dywersji na kanwie życiorysu Bolesława Polończyka ps. "Kryształ", w: Bezpieczeństwo. Teoria i Praktyka, nr 3/2016, s. 173 – 188, Kraków 2016, ISSN 1899-6264
Agnieszka Polończyk, Cichociemni – Zarys historii formacji, w: Wojska Specjalne Rzeczypospolitej Polskiej, Bieniek Mieczysław, Mazur Sławomir M. (red.), Krakowska Akademia im. Andrzeja Frycza Modrzewskiego, 2016, s. 95-105, ISBN 978-83-65208-70-5
---
Text translated from Polish to English by Amadeusz Lange. Some of our pages are still under construction and translation, please be patient – we constantly update our site. If you would like to help the project grow, please contact the administrator at cichociemni@elitadywersji.org or directly with the author of the translations at amadeusz-lange@elitadywersji.org.
Please help us improve our project by sending us scans of documents, archival materials, donations and information about the Silent Unseen.